Fantastically Great Women Who Made History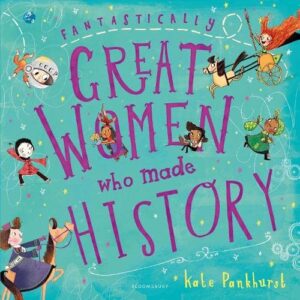 Description
The eagerly anticipated follow up to Kate Pankhurst's hugely successful Fantastically Great Women Who Changed the World, number one best-selling children's non-fiction title.
Kate Pankhurst, descendent of suffragette Emmeline Pankhurst, has created a wildly wonderful and accessible book about the accomplishments and adventures of many more brilliant women from throughout history.
· Travel through the Underground Railroad with the brave and courageous Harriet Tubman
· Turn the pages of the hauntingly brilliant Frankenstein with the incredibly talented Mary Shelley
· Blast into space with astronaut Valentina Tereshkova
· Become a mighty Egyptian pharaoh with the powerful Hatshepsut
Overflowing with vibrant and beautiful illustrations, and wonderfully engaging text, Fantastically Great Women Who Made History is a celebration of just some of the inspirational women who put their mark on the world we live in. A fantastic gift for girls and boys alike!
List of women featured: Elizabeth Blackwell, Qiu Jin, Boudicca, Flora Drummond, Pocahontas, Noor Inayat Khan, Harriet Tubman, Valentina Tereshkova, Ada Lovelace, Sayyida al-Hurra, Hatshepsut, Josephine Baker, Mary Wollstonecraft, Mary Shelley