You Taught Me Love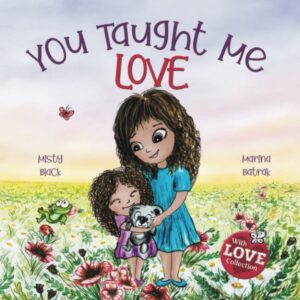 Description
A beautifully illustrated bedtime story showing that LOVE has no limits.
Join mother, daughter, and a silly little frog on a heartwarming journey describing love through the eyes of a child.
"The three greatest words that have ever been said
Are very contagious and like to be spread.
So tell someone special 'I love you' today?
I think you should try it and see what they say."
This snuggly story for kids ages 3-8 can be enjoyed with a parent or grandparent over and over again. The perfect gift for new parents, Valentine's Day, Mother's Day, or a birthday.
After reading this book with their children, moms often buy it for their own mothers—spreading gratitude and love across all generations.
Share a message of unconditional love with your little one in a way he or she can understand.
Cuddle up and read You Taught Me Love today!