Okapi Loves His Zebra Pants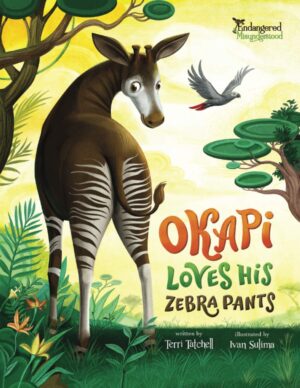 Description
Okapi loves his striped legs until a naughty chimpanzee teases him for stealing "zebra pants". Suddenly his special stripes don't feel special. They feel terrible!
OKAPI loves spending carefree days frolicking in the African Rainforest alongside his best friend AFRICAN GREY PARROT. One day, he meets a CHIMPANZEE who laughs at his striped legs and teases him that he's stolen a zebra's pants. OKAPI has never met a ZEBRA and pretends he doesn't care, but the seed is planted, and he soon finds himself questioning the very stripes he used to love.
What choice does he have but to set out in search of this strange zebra animal and see for himself if he has in fact accidentally taken its pants?